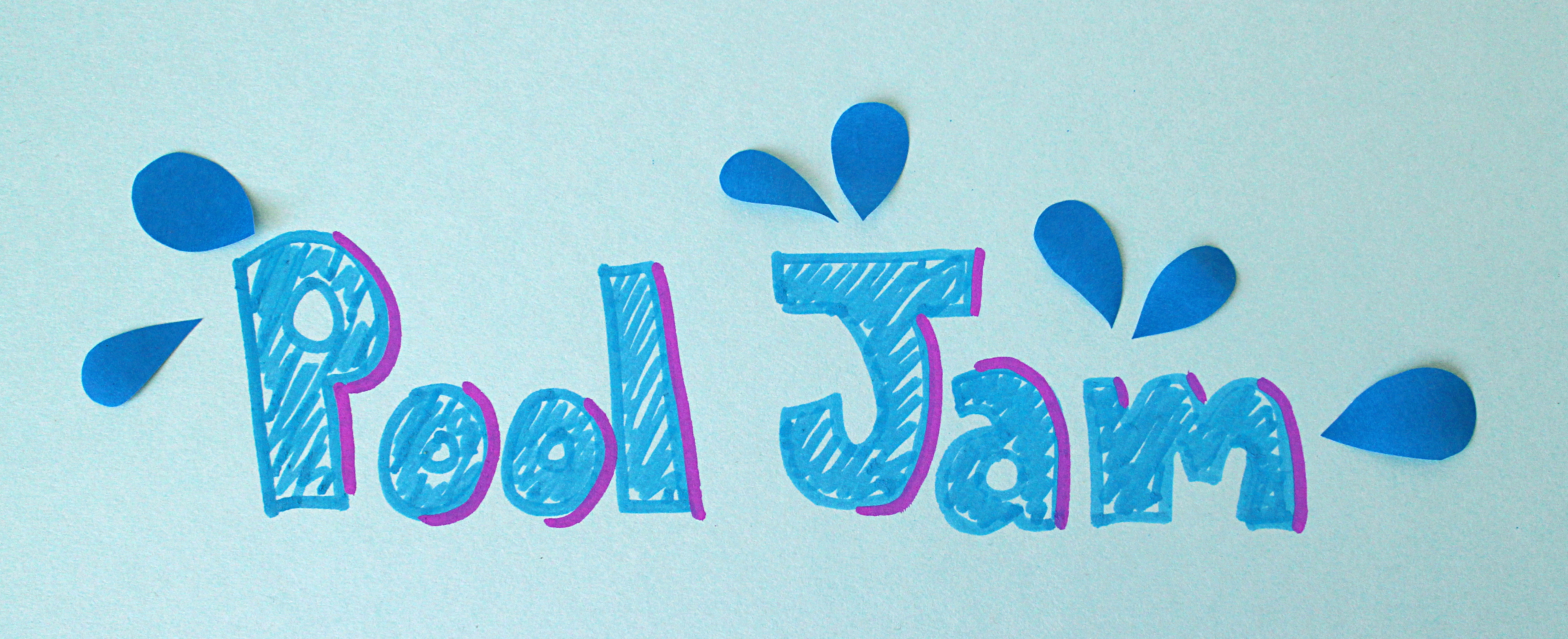 It all started with a splash. Pool Jam is the service I co-created with a team at the Global Service Design Jam. Below is the sound that kicked off a weekend filled with exercises in design thinking and rapid iteration.
This text block intensionally left blank 

In February 2016 I attended the
Global Service Jam
held worldwide over two days and three evenings. The San Francisco edition which I participated in was hosted by Cooper. Everyone was given the same theme as a starting point: the sound of a splash.
The open ended nature of the theme set the tone for the weekend. Teams were formed around malleable service concepts like; Wishing, Poop, Day Drinking, and Letting Things Go. The focus I was drawn to was Public Pools. 
My team chose to call ourselves
Pool Jam,
which we also gave our service.
The weekend was structured so we were always moving forward with an emphasis on "more doing and less talking," 
which encouraged us to quickly iterate towards a first prototype. On the final afternoon everyone would be presenting their service to all the event participants. 
Street Research

On the morning of the first day we had 2.5 hours for research. We headed to the streets and the closest YMCA to ask about people's relationships with public pools.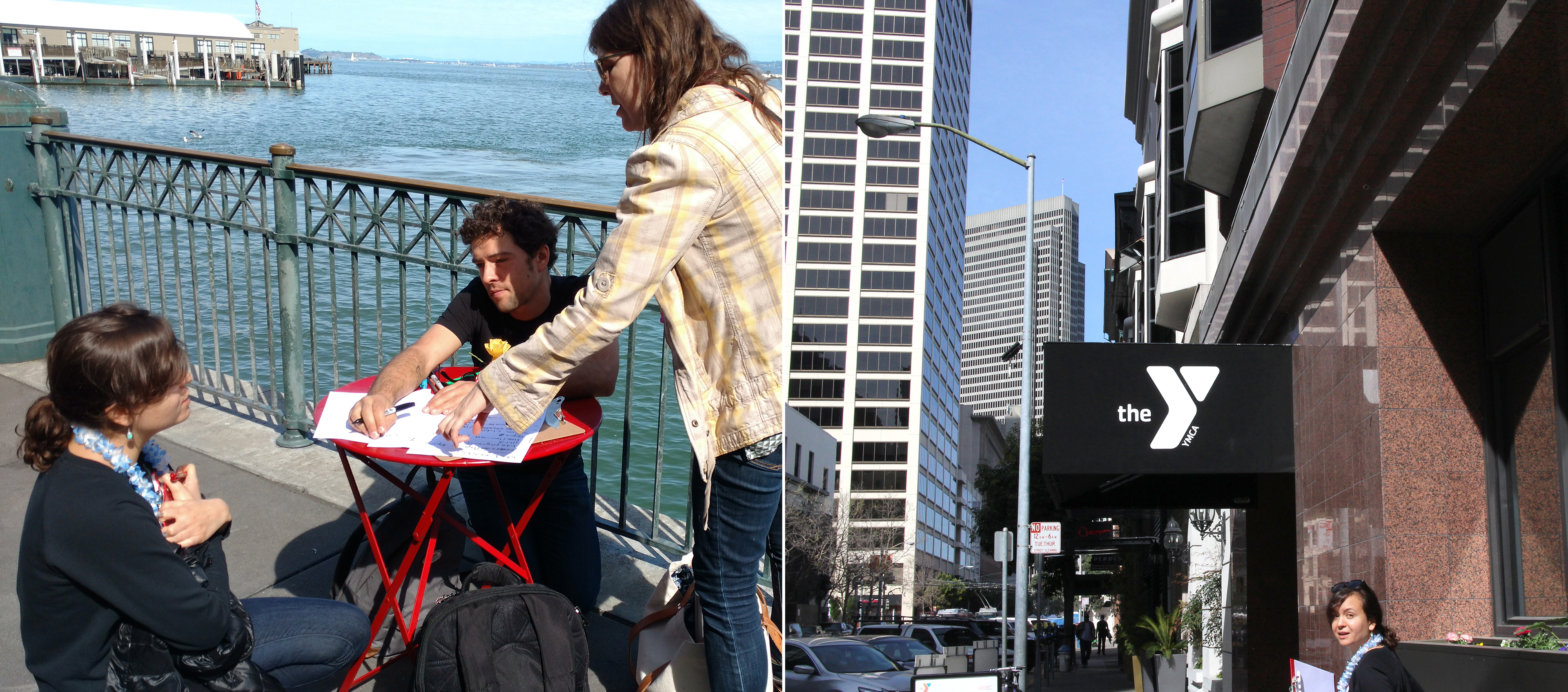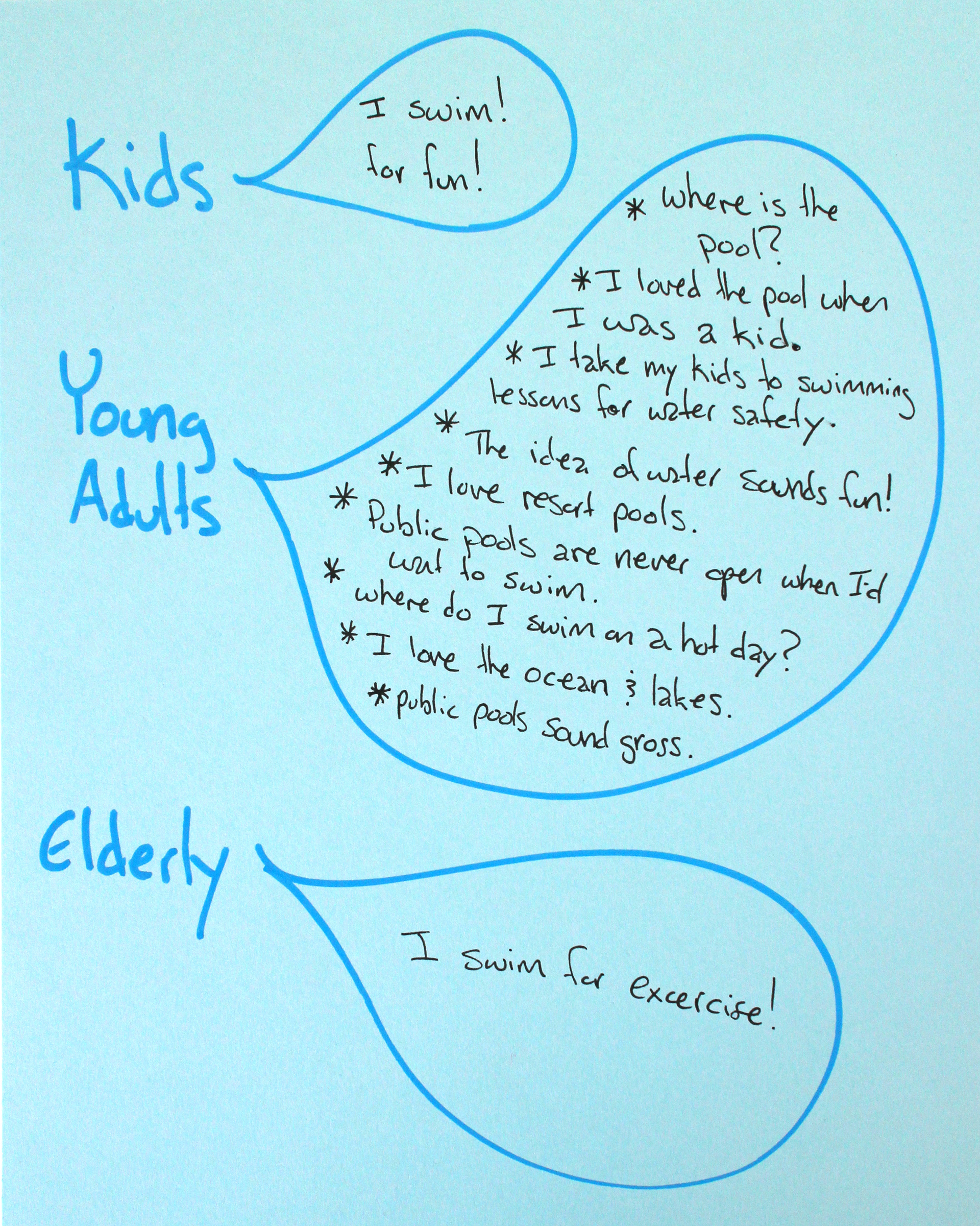 Synthesis + Feedback

After lunch we conducted 3 sets of sprints, which included using synthesis tables, story boarding, and role-playing (aka, body storming). The synthesis tables helped us to quickly organize our research and start moving forward towards a service solution. We chose the problem: "How might we bring unique water experiences to people?"

During the sprint period we were paired with another team to exchange feedback. It was incredibly helpful to have an outside perspective to the problem we were working on.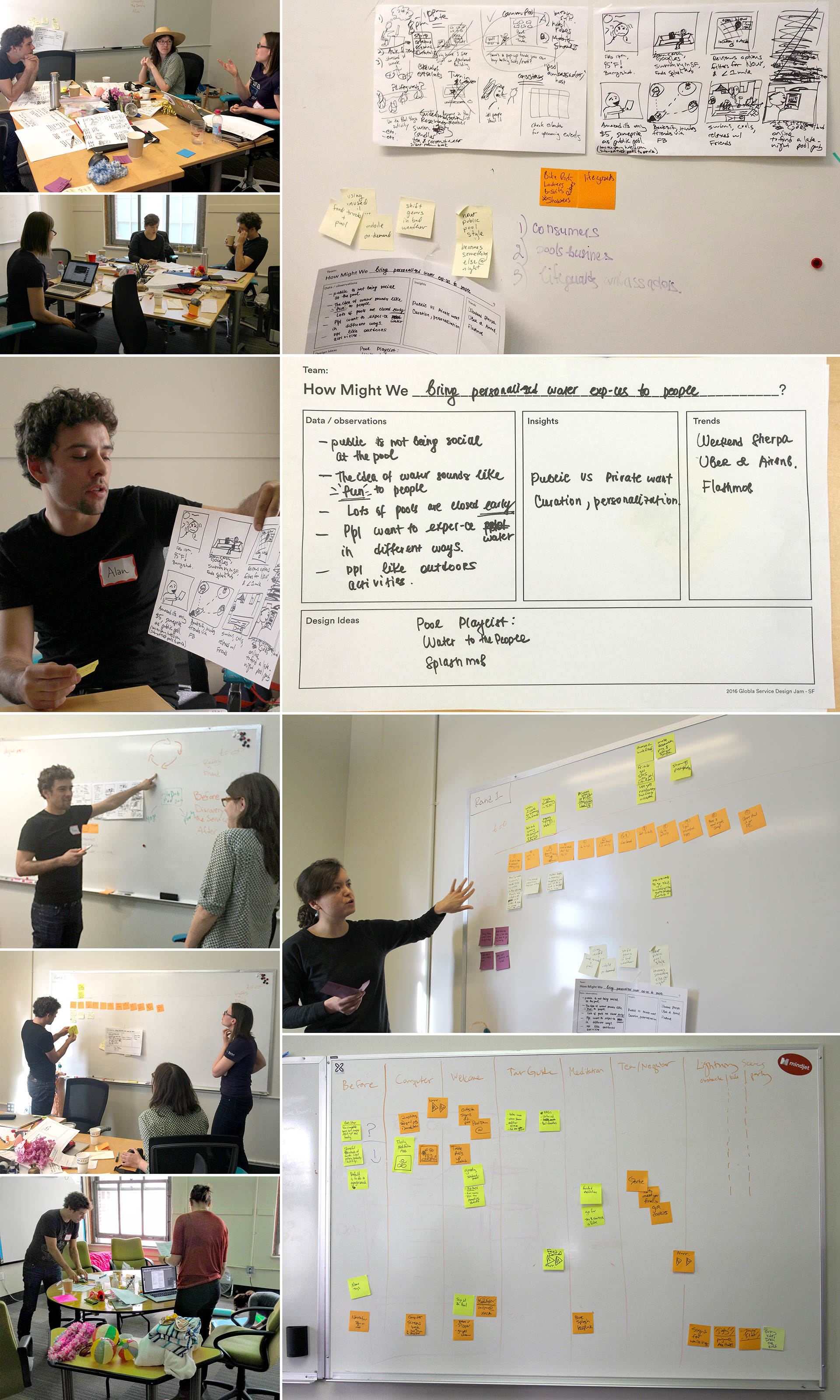 SERVICE CONCEPT

The service we converged around was to curate the public pool experience. We wanted to create unique events that would motivate people to check out their local pools. It would take some conceptual DNA from
Off-the-Grid
and from a
music playlist.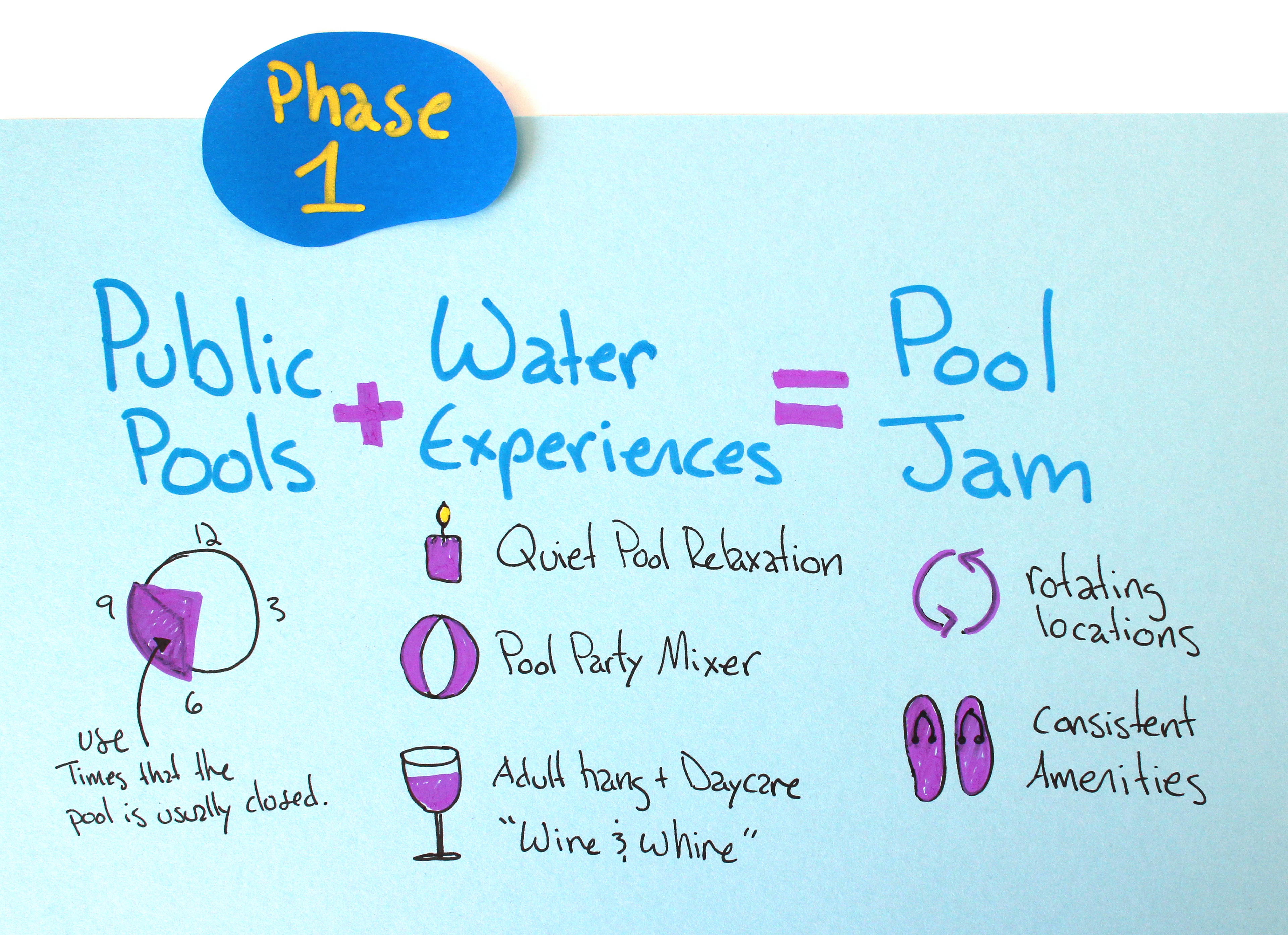 Prototyping

Our last set of sprints was body storming, which became the medium for our final prototype. It was a quick way to feel out interactions and get instant feedback to see if something was missing or awkward. One early element of our concept had been to provide the option of laundered bathing suits for anyone who didn't have one. The role-playing (and all the giggling involved) let us see that this was a confusing interaction which could get in the way of a first time Pool Jam experience.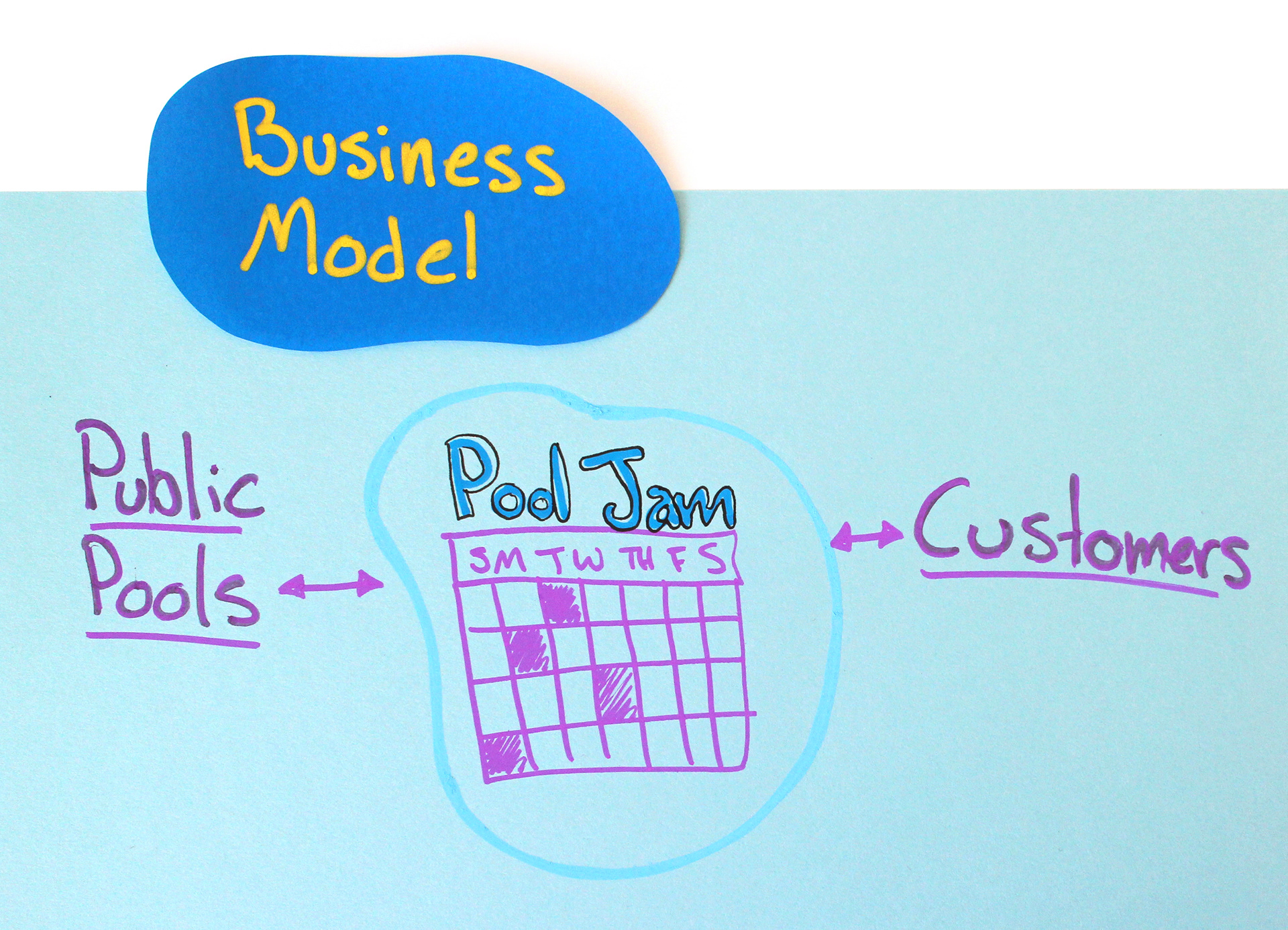 BUSINESS MODEL
Pool Jam was conceived as consistent public pool experience wherever a water event is held, whether that's at a YMCA, a high-rise apartment, or a hotel in the off-season.
Our business model makes Pool Jam the intermediary between pools and the community, removing friction for people to find pools nearby.
For example the
 inconsistency of San Francisco weather means most residents don't know where to go on an 85 degree day. We'd like for a customer to rely on Pool Jam to be the solution. We'd

have relationships in place with pools to make them available when the demand is right.
The alternate scenario is to provide new reasons for someone to check out their neighborhood pool. We'd provide a rotating assortment of

unique water experiences

 to the pool so residents might find an event specific to their interests. This could open the door to using the pool regularly, meeting new people, and building community.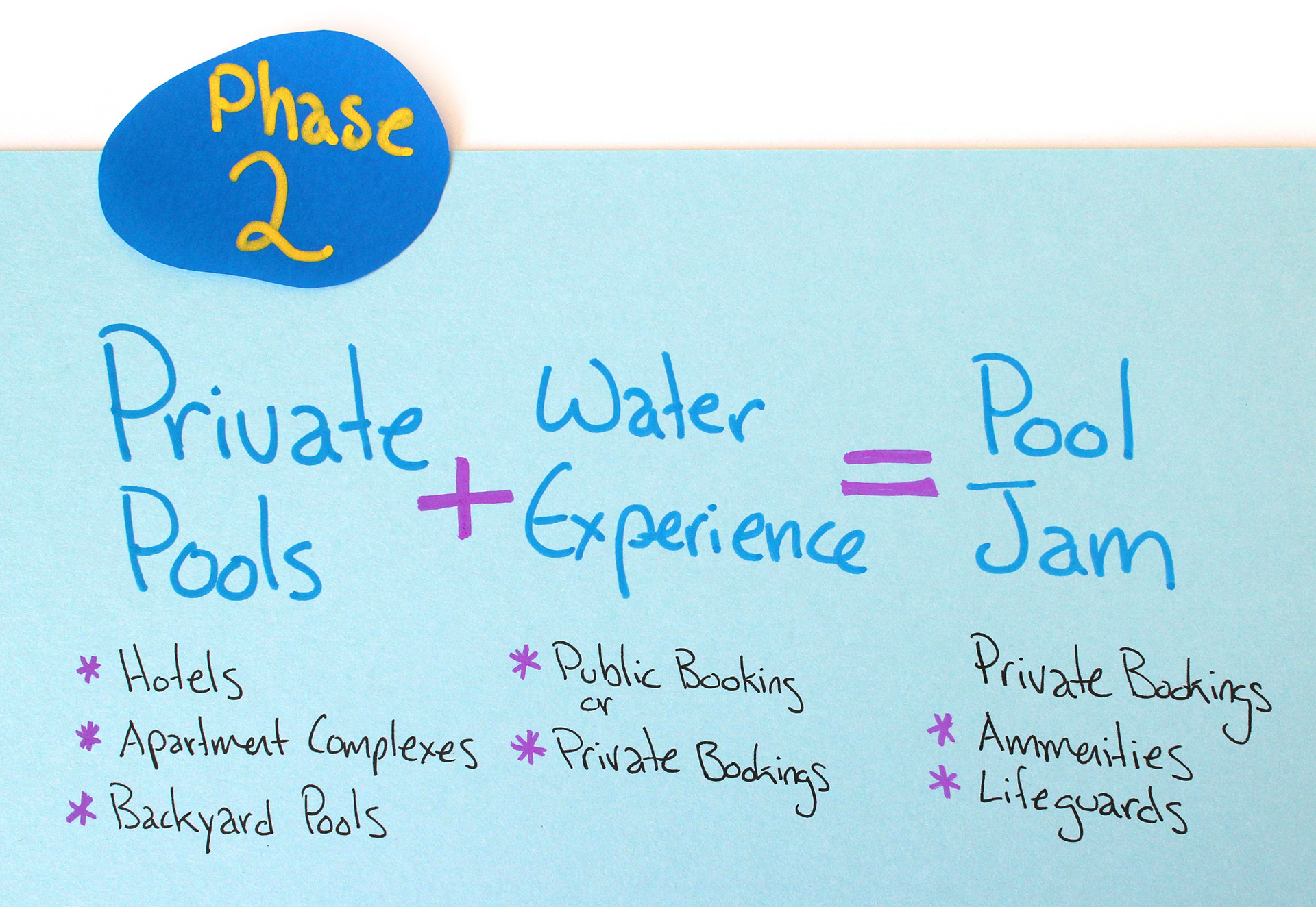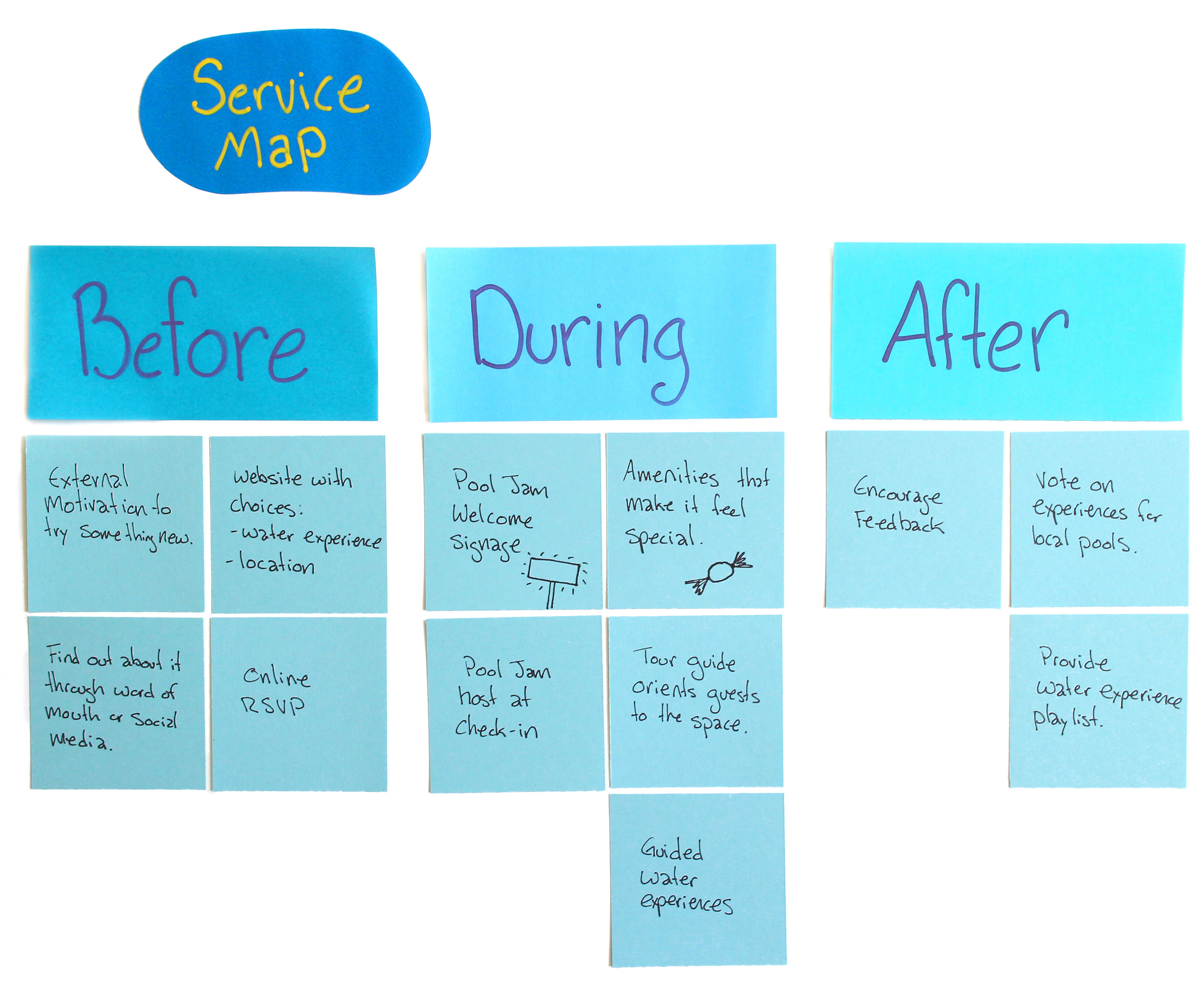 lessons from the weekend
There's nothing else like learning through experience. For me personally the weekend had many take-aways.
– Tools for design thinking
– Tools for synthesizing research
– Tools to aid in team dynamics
At the beginning of the weekend we were given advice for working on a team project;
m
ake sure each member of the team has a hero moment.
I took that advice into the weekend as a personal goal for myself working within a team. It's an extra challenge to be meeting people at the exact same time you begin working with them. Our team was enthusiastic, but not without some hiccups working together. There was a point in the weekend when we realized we needed to say "yes!" more often to each other's concerns. We delegated activities trusting each other to make the decisions we thought were right for the whole of the project.
Having the "hero moment" idea kept me from disengaging when team dynamics got tough. It allowed me to say "yes!" to others. Some of my own hero moments were; writing the loose script for our prototype, finding uses for the supplies/props I brought, and having opportunities to take the lead. 
Ultimately I think we all had our hero moments and ended the weekend feeling positive about the work we'd done together.