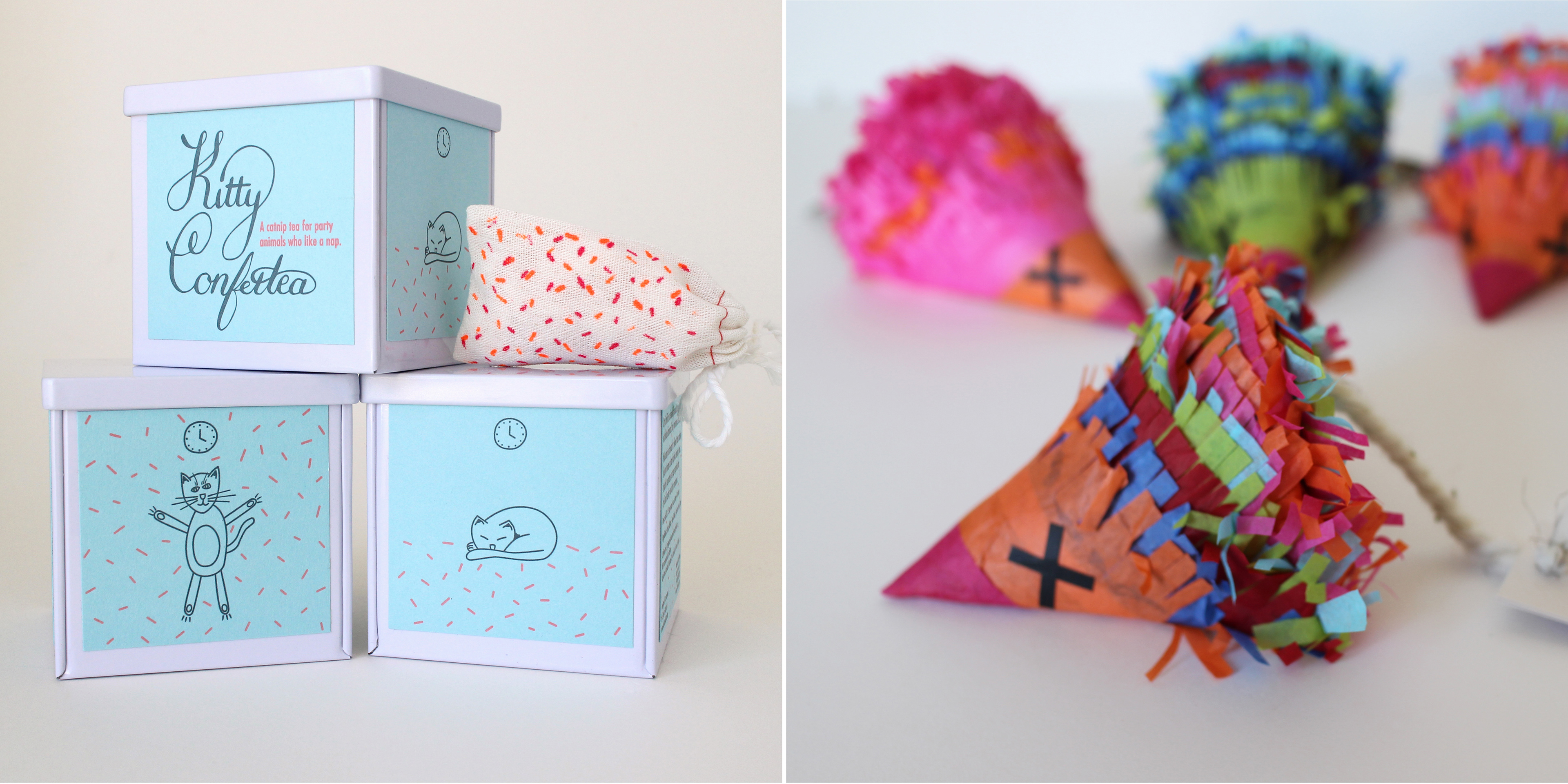 Kitty Confetti is a brand of stationary and gifts for cat lovers, designed using a variety of craft media with the intention to scale product production for wholesale. 
Craft Business as Side Project
I've always been interested in developing new craft skills; calligraphy, letterpress printing, and needle felting are examples. I often describe my creative exploration as designing with craft because repeatability is always a consideration in what I make. This is true for items I make for sale and give as gifts.
From 2012 – 2016 I made and sold a variety of crafty notions including Christmas ornaments, letterpress printed cards, needle felted fascinators, washi tape notebooks, and cat toys. Eventually I focused on a cat theme. Kitty Confetti became the unifying home for the expression of my varied crafty interests.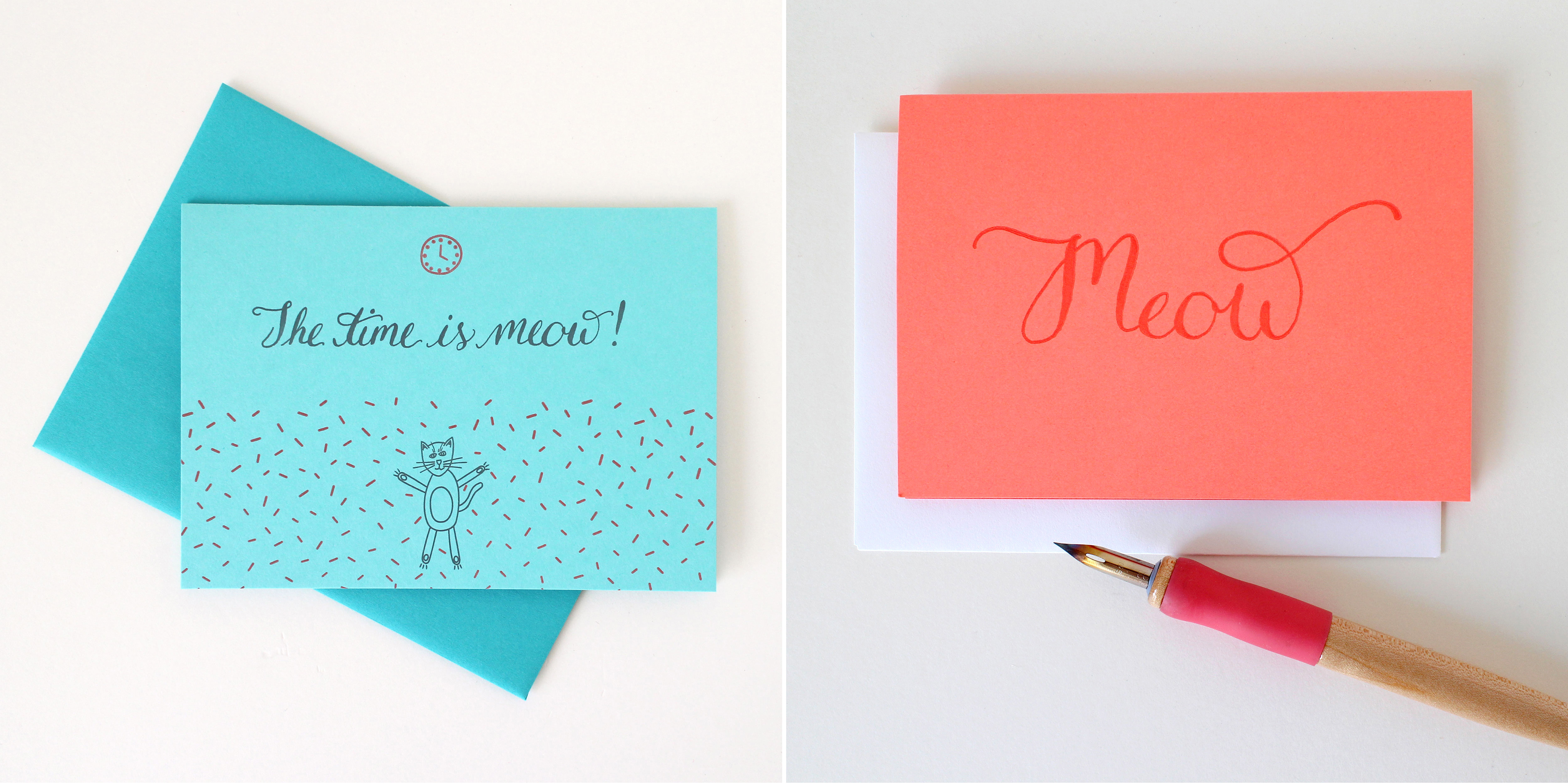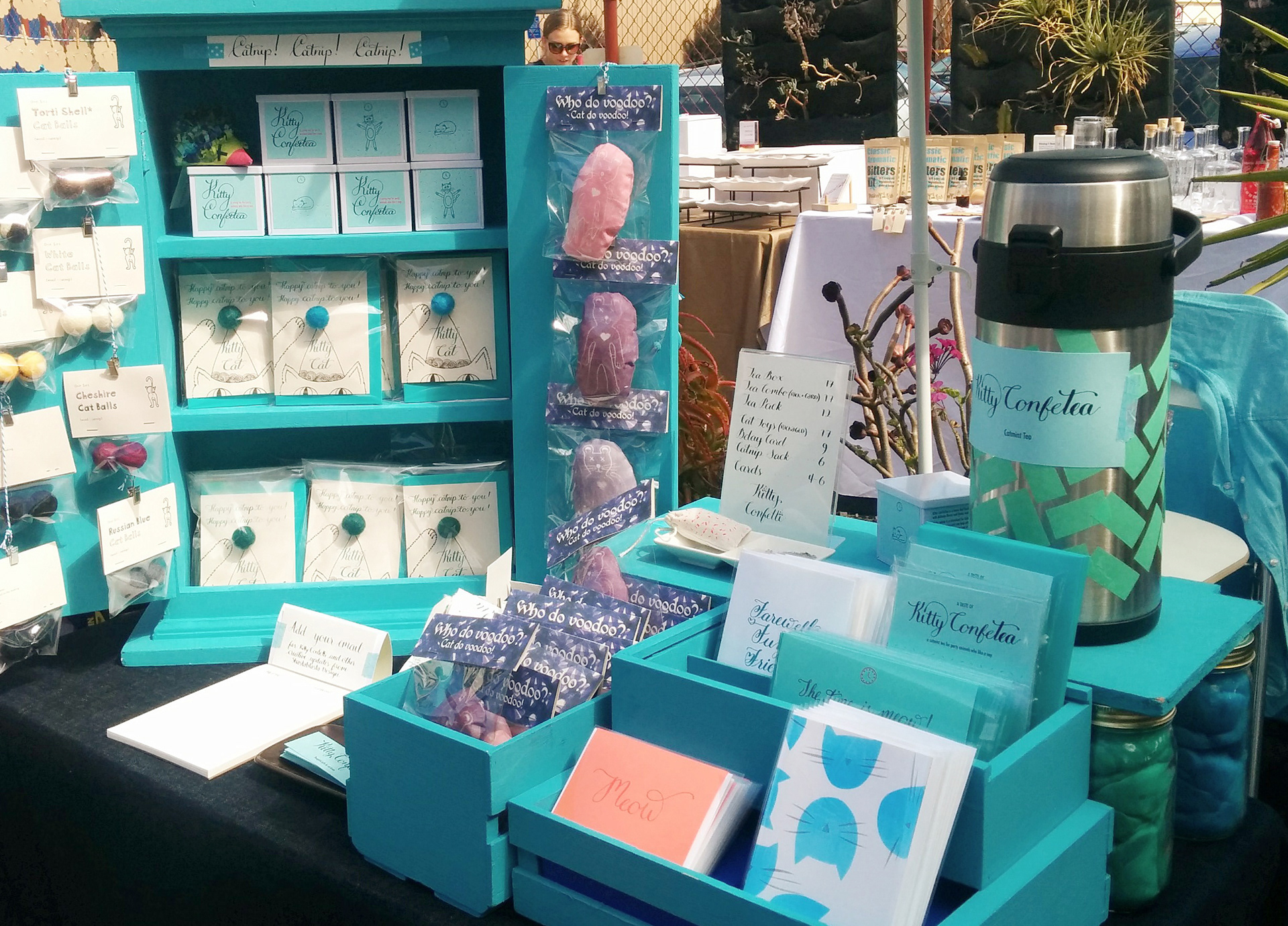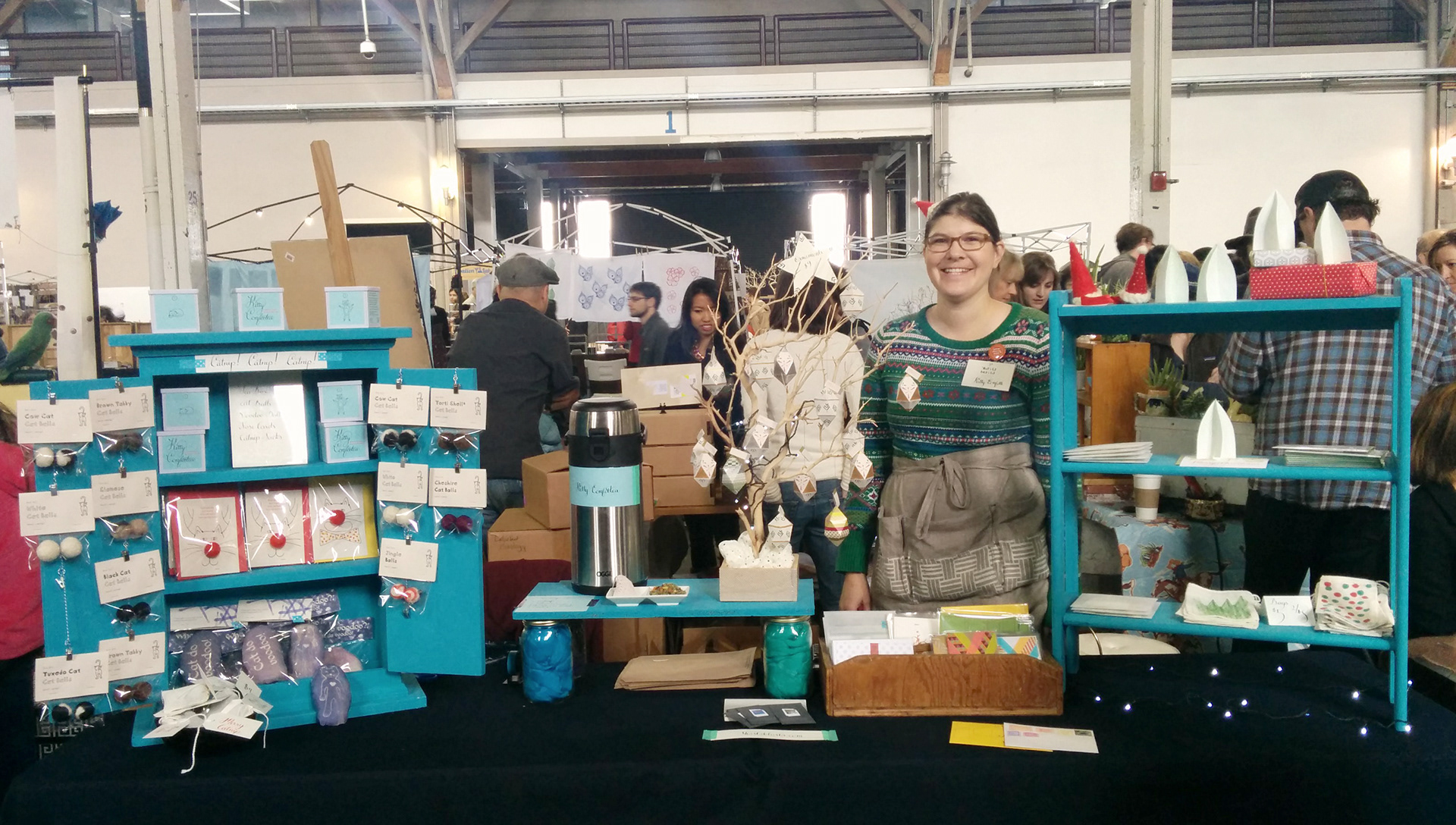 LEARNING LESSONS with a/b testing
During a holiday season selling at craft fairs, I arranged my cat goods on one side of my table display and a variety of my other paper crafts on the other side. This turned out to be an inadvertent A/B test. I noticed the kitty section was always busy with shoppers and the other side didn't get much love. This was the needed insight to start focusing only on Kitty Confetti. 
An advantage of a craft business is that there's room for experimentation and iteration. Designing with craft is to always be in a state of prototyping. I've noticed many overlapping ideas between UX design and creating a small business.
SELLING CRAFTS IS A BALANCE OF ART AND BUSINESS STRATEGY
One of my earliest cat products was a letterpress printed Rudolph holiday card that doubles as a cat toy with it's removable red catnip infused nose. The initial idea came spontaneously when I was in the flow of creativity. There was little exploration in designing the card so luckily it was a good seller. 
I wanted to create something similar that could be sold year round. A birthday card with a clown motif seemed perfect because it could utilize the same red nose idea. However it ended up being a horrible seller. It's clear that I should have solicited feedback on the imagery before printing the card.
Watching people interact with the clown card let me understand the mistakes made. Because there are no words on the card front it's not immediately obvious to the customer that the felt ball is a cat toy. It's also not obvious who they'd give the card to. Taking these observations into account, I developed a new birthday card and solicited outside feedback as I designed it. The new birthday card not only sold better it got a better customer reaction.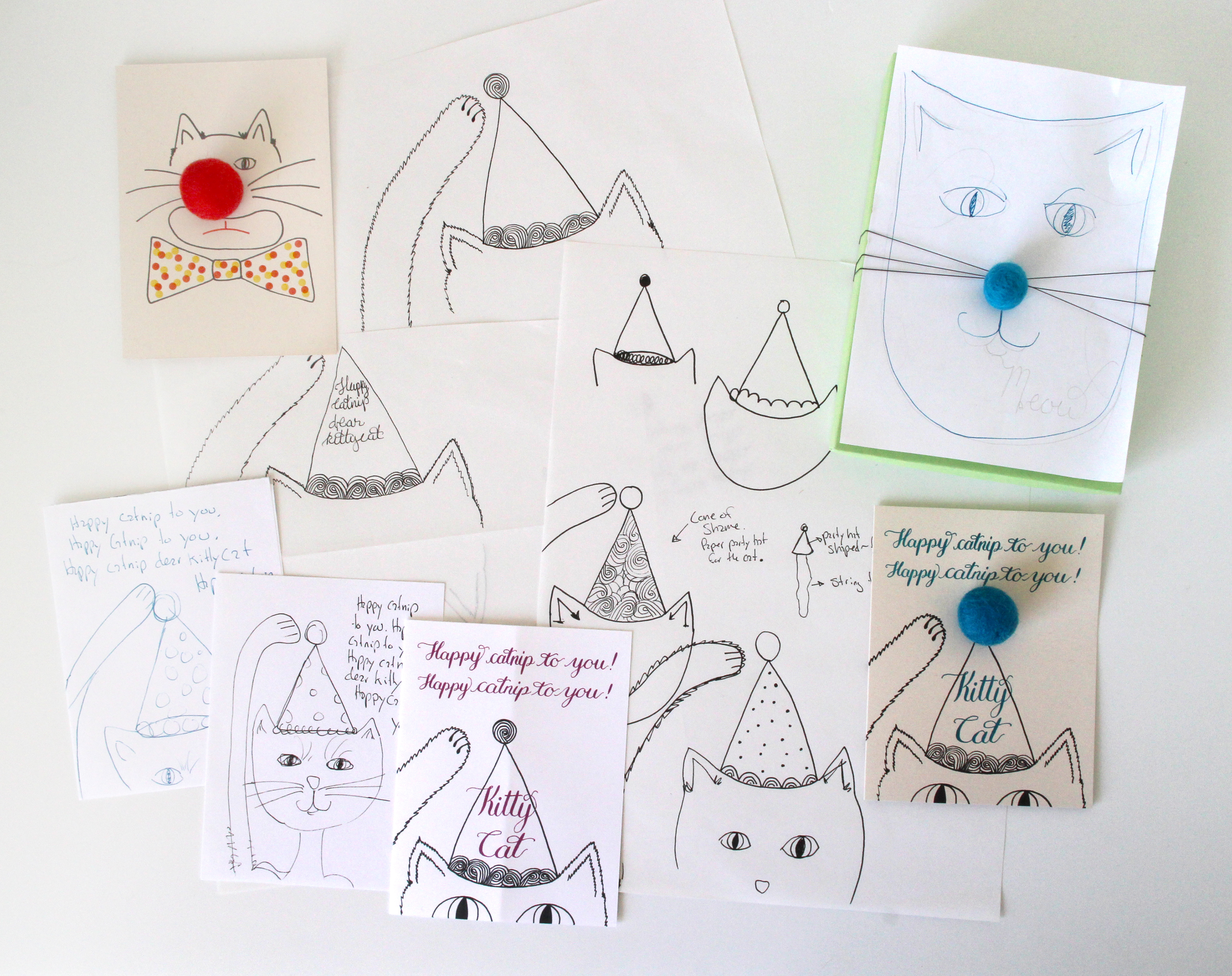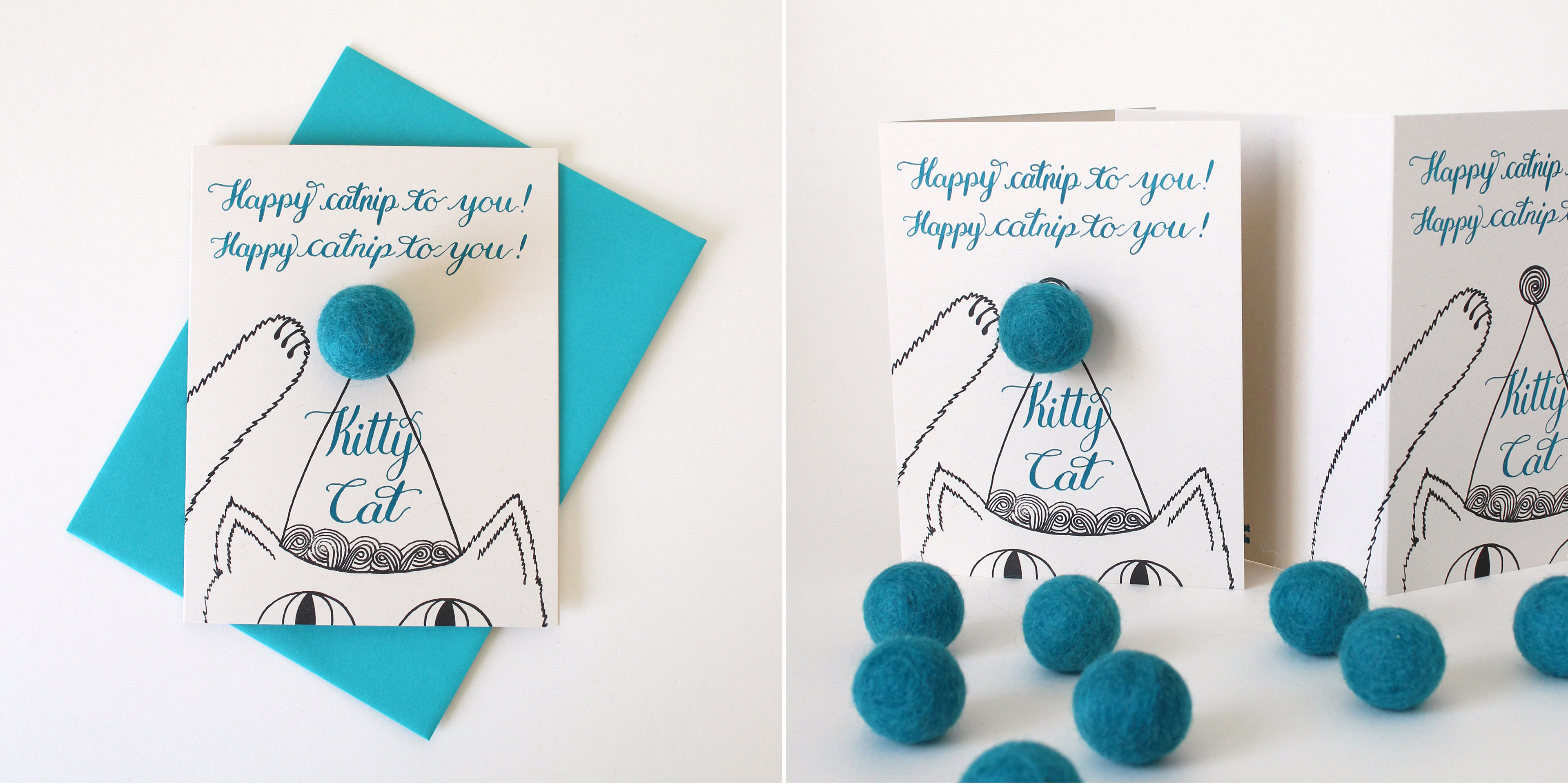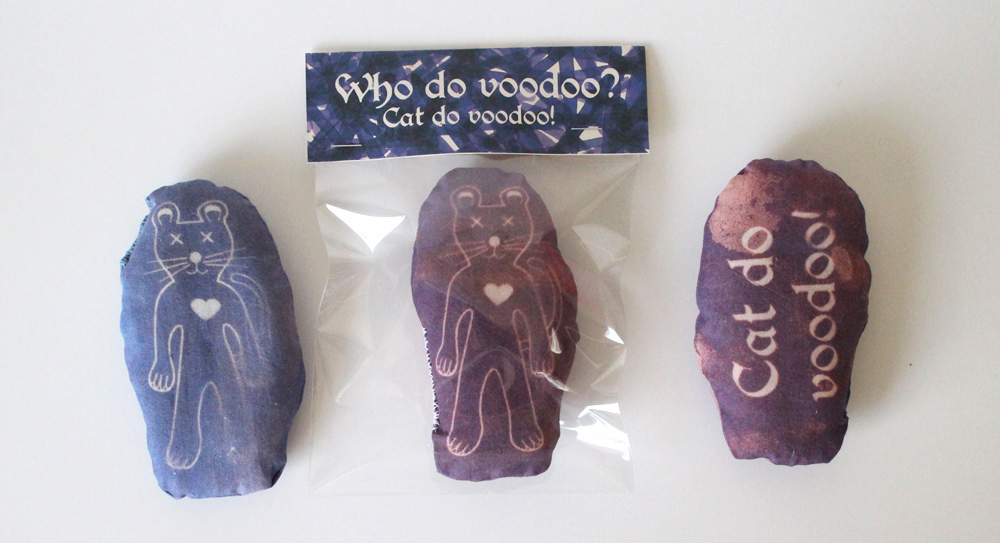 prototyping craft
This toy needed a lot of testing and experimentation to get it just right. I used a light-sensitive cyanotype dye process to create the ghostly image quality. Over time I also tested packaging for the product.
The prototypes also serve as the final product to sell. While I knew the labor and time it takes to make them is too costly for wholesale it served the purpose to test sales and interest. If I'd continued with the Kitty Confetti business I know the processes I'd use to make it more cost effective for wholesale.