As a member of a small design team I worked collaboratively with marketing, sales, product, CX, benefits solutions, and the people teams. 
While working at
Zenefits
there was a lot of change as is common with startups. I saw a lot of transition in leadership, product offerings, business strategies, team members, and customer communication. 
Midway through my contract, Zenefits worked with an agency to rebrand itself, and I helped to implement the aesthetic and brand strategy. The following is a sampling of some of the hundred plus assets and projects I worked on and design systems I shaped.
Old Brand vs. New Brand
Previously Zenefits had minimal design elements beyond color, logo, and typeface. The following shows the webinar design system with three different iterations of brand application.
1. old webinar landing page and event page
Historically webinars are one of the key ways Zenefits communicates itself as a business resource. Previously there was no common thread to the visuals used when promoting online events. 
2. Interim webinar design system
Before the new branding project was undertaken I refined the webinar landing page system. I had the constraint of working with a recently re-architected marketing site. 
3. New webinar system landing page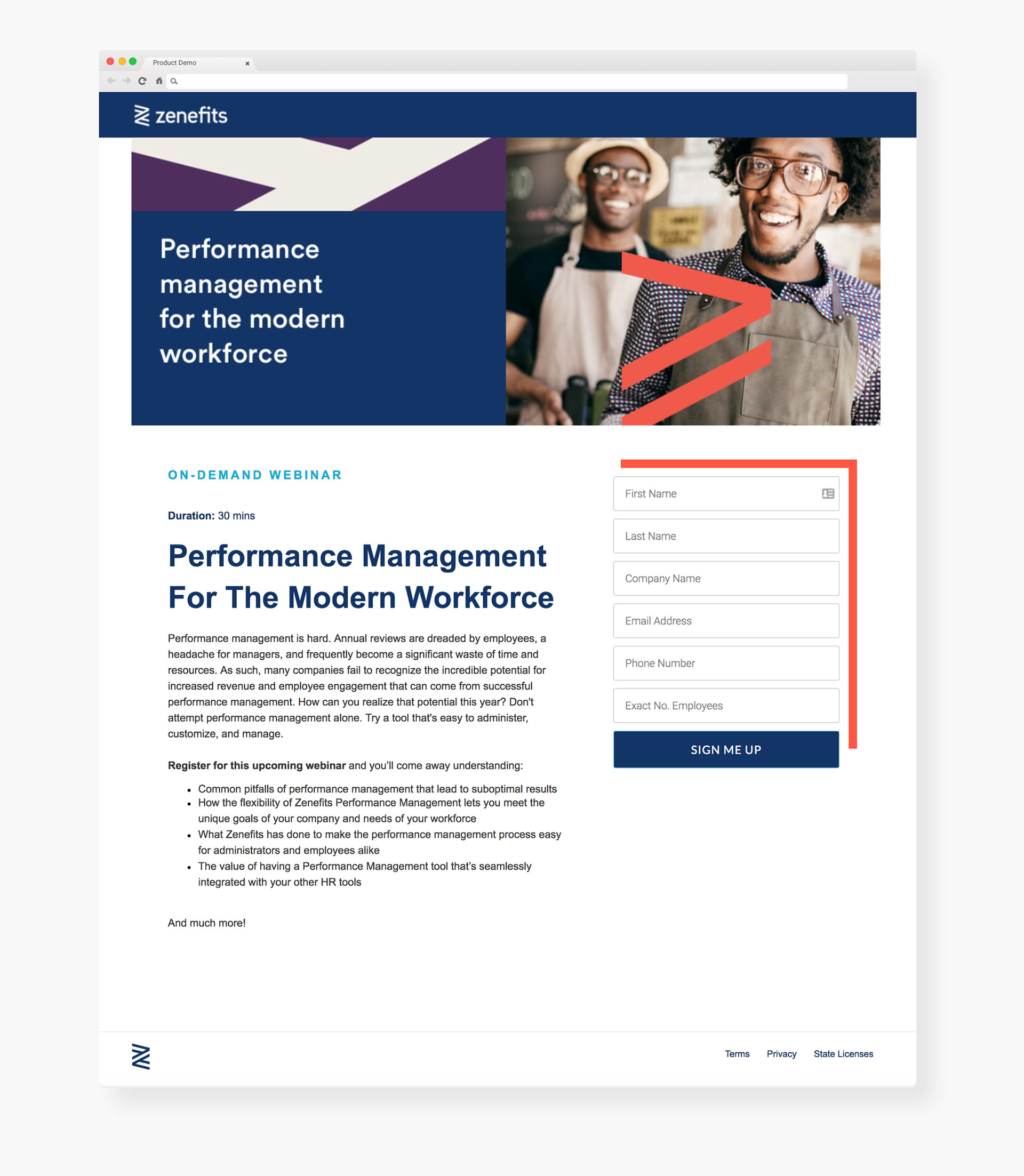 related assets for promotion
Zenefits product specific pay per click landing pages.
These are stand alone Zenefits marketing site focusing on a specific area of the business. They also must function as the potential first introduction of Zenefits to a potential customer.
Sample Landing pages
payroll focused Mobile landing page
Advisor services landing pages
Zenefits has weekly marketing campaigns to keep customers moving through the sales funnel. They all tie back to specific landing pages. With limited developer resources many of the campaigns utilized a WYSIWYG system from Marketo and necessitated designing around it's constraints. 

Landing page template
This campaign specifically targeted existing customers to let them know about the advisory offerings from Zenefits.

Related assets for promotion

Zenefits on-demand product demos
This type of campaigns targeted new customers requiring social tiles.
Related assets for promotion
Social media tiles are paired with supporting text when they're used.

Miscellaneous social media assets
These were often the point of entry into a sales funnel. When posted to Facebook they're paired with supporting text related to a resource such as an ebook.